Joker film stars Joaquin Phoenix as Arthur Fleck along with Robert De Niro, Zazie Beetz, Frances Conroy, Brett Cullen, Shea Whigham, Glenn Fleshler, Leigh Gill, Josh Pais, Rocco Luna, Marc Maron.
When and Where was Joker filmed?
Joker Filming Locations
Are you one of those who loves to discover the filming locations of your favorite Movies or TV Series? This is the right place for you to check the filming locations for various movies and TV series.
1. Anderson Ave, New York, USA
Address: 1150 Anderson Ave, The Bronx, New York City, New York, USA
The iconic Joker staircase is seen in the film, and the stairs dance scene, playing Gary Glitter's song Rock and Roll is filmed in the Bronx at W 167th Street, between Anderson and Shakespeare Avenues. The exterior of the building where Arthur lives with her mother Penny is also situated at the top of the stairs on Anderson Avenue.
2. Market Street at Washington Street
Address: Newark, NJ 07102, USA
At the start of the movie, Arthur Fleck was seen as a clown on Market Street in Newark, near the old Paramount Theater. Arthur was seen in the clown costume, dancing alongside the Newark Paramount Theatre, 195 Market Street.
3. The Harlem River Lift Bridge
Address: Robert F. Kennedy Bridge, Bronx, NY 10454, USA
The Harlem River Lift Bridge also noted as the Park Avenue Bridge is a vertical lift bridge across the Harlem River between the boroughs of Manhattan and the Bronx in New York City.
In the film, the scene on the bus, when Arthur sits on the window side was filmed on the Harlem River Lift Bridge.
4. 20 Exchange Place, Financial District, New York
Exchange Place is a district of Downtown Jersey City and is also referred to as Wall Street West. The scene in the film where Arthur robbed the Gotham Savings Bank was filmed on the Twenty Exchange, at William Street and Exchange Place in Lower Manhattan's Financial District.
5. Steiner Studios
Address: 15 Washington Ave, Brooklyn, NY 11205, United States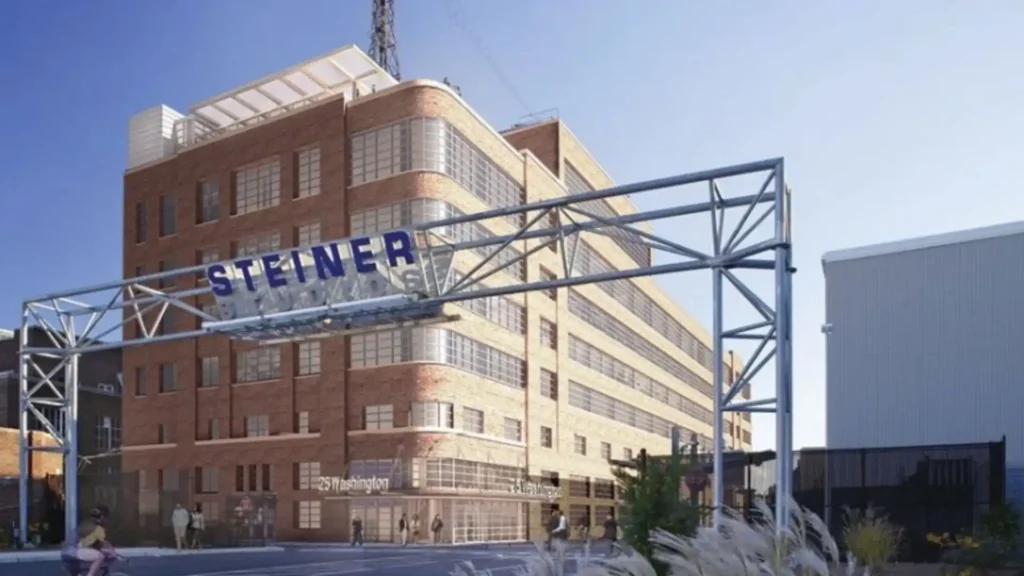 Steiner Studios is a Film production company and film studio located at Brooklyn Navy Yard and is the biggest film and TV production studio complex in the U.S. outside Hollywood.
Arthur makes a public statement live on air in the TV studio in the film was filmed in the Steiner Studios, 15 Washington Avenue at the old Brooklyn Navy Yard in Brooklyn.
6. Archway Under Manhattan Bridge
Address: 199 Cherry St, New York City, New York, USA
In the subway scene where Joker runs through the tunnel scene is filmed in the Archway Under Manhattan Bridge, at 199 Cherry Street on the Lower East Side.
Other filming Locations of Joker Film
Apart from all the above-mentioned locations, some other locations in New Jersey and New York were also used for the filming of the popular movie Joker. Brief information about other locations used for the shooting of the film Joker is given in the table below, We hope this table will be helpful to you-
| Locations📍 | Scenes🎬 |
| --- | --- |
| Hudson County Courthouse, Jersey City | The Wayne Hall Scene |
| Loew's Jersey Theatre, Jersey City | Cinema theater exterior scene/Crime Alley |
| Chinatown, New York City | Street scene |
| Brooklyn Army Terminal, Sunset Park, Brooklyn, New York City | Arkham State Hospital |
| 3396 Jerome Ave, The Bronx, New York City | Donut shop |
| Seagram Building, New York City | Wayne Industries |
| Disused lower level platforms, 9th Avenue Subway Station, Brooklyn | Subway station |
| West Side Highway & 136th St, New York City | Ha-Ha's Talent Booking |
| Webb Institute of Naval Architecture – Stevenson Taylor Hall, The Braes, Glen Cove, Long Island, New York | Wayne Manor |
Joker Filming Locations
Joker Official Trailer