Back to The Future 3 Filming Locations- Where was Back to The Future 3 filmed?
Utah, USA
Utah is a state in the Western United States. Back to the Future Part III was filmed in different parts of California and Arizona but the cast and crew also filmed in Utah.
Monument Valley is a region of the Colorado Plateau well known for its cluster of sandstone buttes and is the largest reaching 1,000 ft above the valley floor. The well-known butte formations are located in northeastern Arizona along the Utah–Arizona state line.
Many movies have been filmed in Monument Valley and the location was also used in the film to shoot the scene when Marty arrives in the 1885 scene in Back to the Future III.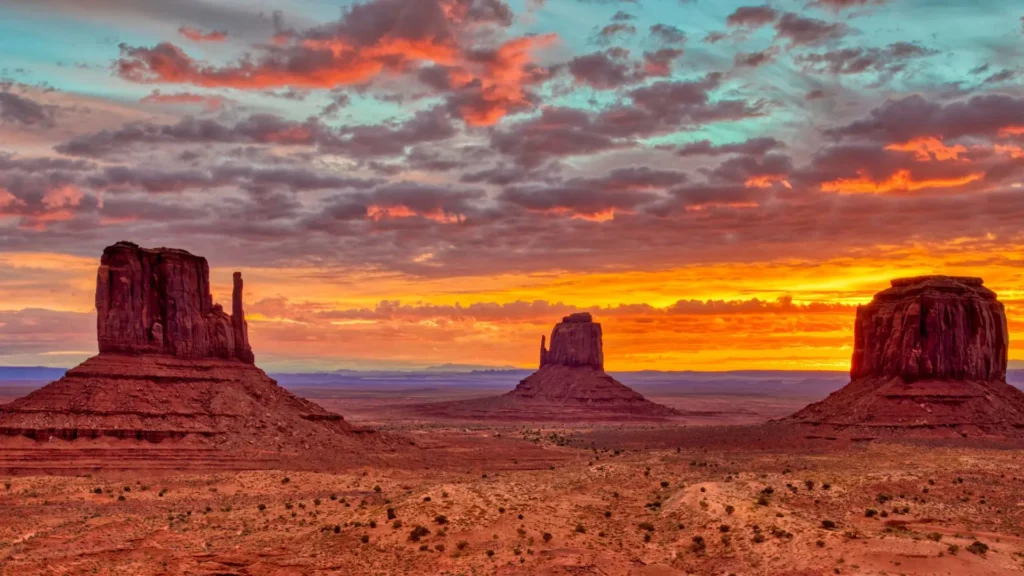 Marty after Ignoring the cautionary letter travels back to 1885 to rescue Doc but he arrives in the midst of a cavalry chase which was actually Monument Valley causing the fuel line of his car to get damaged.
After being chased by a bear he faints and is later discovered by his Irish-born great-great-grandparents, Seamus and Maggie McFly.
Other Locations of Back to The Future 3:
The 1990 film Back to the Future 3 was filmed in Utah's Monument Valley as well as in various other locations in the United States. In the table below, you can see other locations of Back to the Future 3 where the movie was shot:-
| | |
| --- | --- |
| Main Locations📍 | Scene🎬 |
| Sierra Railroad, Jamestown, California | Several Scenes |
| Monument Valley, Arizona | Indian charge |
| 161 N. Magnolia Avenue, Monrovia, California | Jennifer's house |
| South Ventura Rd & Shoreview Dr, Port Hueneme, California | train-DeLorean crash |
| Doris Avenue & N. Oxford Drive Oxnard, California | Rolls Royce incident |
| Gamble House – 4 Westmoreland Place, Pasadena, California | Doc Emmett's House – exteriors |
| Jamestown, California, USA | 1885 Hill Valley |
| 3793 Oakhurst St., El Monte, California | Marty's house in Hilldale 2015 |
| Red Hills Ranch, Sonora, California | 1885 Hill Valley: town, train station, railroad |
| 9303 Roslyndale Avenue, Arleta, Los Angeles, California | the McFly house |
| China Flat, Oak Park, Ventura County, California | Mine & Cemetery scenes |
| Courthouse Square, Backlot, Universal Studios – 100 Universal City Plaza, Universal City, California | Marty's House in Hilldale 2015 |
| Stage 12, Universal Studios – 100 Universal City Plaza, Universal City, California | Studio, interiors: Doc Emmett's House |
| South Pasadena, California | Some Scenes |
| Kagel Canyon Street & Sandusky Avenue, Arleta, California | entrance to Lyon Estates;1985 |
Where was Back to The Future 3 Filmed in Utah,Where was Back to The Future 3 Filmed in Utah
Back to The Future 3 Official Trailer
Back to The Future 3 was released in the United States on May 25, 1990, by Universal Pictures. (External Link: IMDb)