Six Four Filming Locations: Six Four is a 2023 Crime, Drama, Thriller series which is directed by Ben A. Williams and the episodes are written by Gregory Burke, and Clare McQuillan.
It is based on one of the best-selling novels of the same name which was written by Hideo Yokoyama, starring Vinette Robinson, Kevin McKidd, and Nalini Chetty in the leading roles.
| | |
| --- | --- |
| Name | Six Four |
| Genre | Crime, Drama, Thriller |
| Filming Location | Scotland |
| Filming Dates | 2022 |
| Release Date | 30 March 2023 |
Six Four Filming Locations
Six Four Filming Locations
The episodes of Six Four were shot at various locations in Scotland, especially in Glasgow City. The cast and crew went to several places in Scotland including New Battle Abbey – Dalkeith, Edinburgh, and Wanlockhead to tape the scenes for the series.
Let's take a look at the different filming locations used in Scotland for Six Four. The series crew made use of various facilities in Scotland to shoot the series.
When and where Six Four Filmed?
The shooting for Six Four was done in the summer of 2022 in Scotland. The leading cast, Kevin McKidd was seen shooting in th month of May in Glasgow city which reveals that the shooting took place in May of 2022 summer.
Apart from Glasgow, the shooting of the series was also held in various locations in Scotland including New Battle Abbey Dalkeith, Edinburgh, as well as Wanlockhead.
Edinburgh, Scotland, UK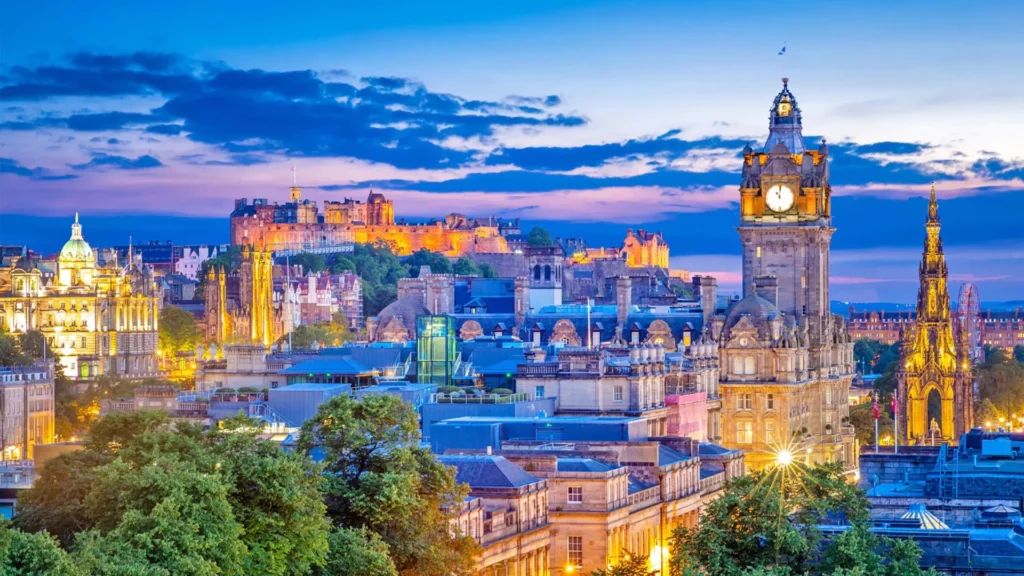 Six Four is fully shot in Scotland. The makers and the cast members went on an amazing tour in Scotland to capture dazzling views for the series, they also went to Edinburgh to capture the many scenes including Isolated Farm House shots.
The locations in Edinburgh where the Six Four shot are City Morgue, Waverly Station, Scotsman Steps, Niddry Street, North Bridge, and Fleshmarket Close.
Wanlockhead, Scotland, UK
Police House and Village scenes of the series were shot at Kellocks Cottage of Wanlockhead, a village in Scotland. McCardie who plays the role of Bill Martin also talked about his experience in Wanlockhead.
He said, "Wanlockhead was outstanding. It's the highest elevation little village in Scotland and it was eerie and desolate and creepy but homely to the people that lived there, at the same time."
And, you know, the birds looked like they thought they were too high in the sky when they were flying low. The sheep seemed like they had vertigo, you know?" McCardie continued.
The actor stated, "So that and the whole atmosphere, it created a very special atmosphere because of the elevation" WalesOnline reports.
Glasgow, Scotland, UK
The primary filming took place in Glasgow. The cast and crew taped several major scenes at different locations in Glasgow City.
Some of the locations include Vincent Street Lane, Hope Street Coffee Shop, Outlier Cafe, Club 3000 Bingo, Hotel Novotel, Glasgow Central Station, and Bothwell Street.
Other locations in Scotland: Here are some additional locations in Scotland where Six Four shot.
Beecraigs Country Park
Newbattle Abbey College
Duntercleugh Cottage, Church Street
Kellocks Cottage, Wanlockhead
Glenmuckloch Quarry, Lagrae
New College Lanarkshire Motherwell
Glencrieve Mine Remains
People also ask:
What is the filming location of Six Four?
Sic four was filmed in Scotland.
Where was Six Four filmed?
Six four were filmed in different places in Scotland.
When did Six Four film?
Six four filmed in 2022.
Six Four Overview
The film tells the story of Chris a police investigator and his wife Michelle, a secret officer, whose daughter goes missing.
Six Four Official Trailer
You can watch the trailer below:
Six Four came out in the United Kingdom on 30 March 2023 on ITVX. (External Link: IMDB)