Queen Cleopatra Filming Locations: Queen Cleopatra is a Netflix documentary drama television series that follows Queen Cleopatra of Egypt of Ptolemaic heritage from Macedonia, Greece, and her rule for 21 years, between 51 BC and 30 BC years which ended with her suicide.
Queen Cleopatra series casts Adele James as Cleopatra along with Craig Russell as Mark Anthony, Nada El Belkasmi as Octavia1 episode, and Sami Fekkak as Optio Roman Officer.
When and Where was Queen Cleopatra Filmed?
The filming of the Queen Cleopatra series originally took place in and around Egypt and Morocco. Queen Cleopatra is a mini-series about Queen Cleopatra of Egypt of the Ptolemaic lineage from Macedonia, Greece.
Queen Cleopatra Filming Locations
Here is a guide to all the locations for Queen Cleopatra Filming Locations. Adele James as Cleopatra in the series posted the release date of the series on his Instagram.
Are you one of those who loves to discover the filming locations of your favorite Movies or TV Series? This is the right place for you to check the filming locations for various movies and TV series. In the below article, we will see the different locations where the series was filmed.
Egypt
Egypt is the most crowded country in the Arab world with an estimated 112,716,598 people(2023). Egypt has one of the longest histories of any country. Some of the iconic monuments such as the Giza Necropolis and its Great Sphinx, as well as the ruins of Memphis, Thebes, Karnak, and the Valley of the Kings, can be seen in the series.
The cast and crew set up camp in the city and the city was the primary filming location for the series. Adele James posted a clip from the series you can see the incredible beauty of the city clearly in the clip.
Ouarzazate, Morocco
Ouarzazate is also known as the Door of the Desert in Ouarzazate Province. The actors and production unit used the Atlas Studios in Ouarzazate to film many scenes of the series and the studio is one of the most famous film sets in the world.
Address: Km 5, BP 28 Route de Marrakech, 45000, Morocco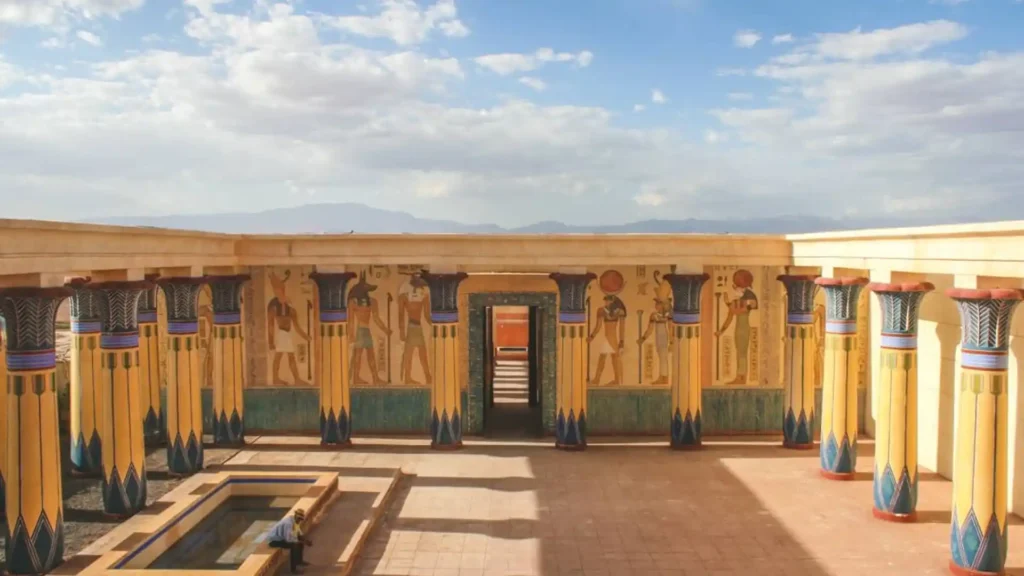 Adele James shared her experience of being in the most iconic locations."I'd never flown out abroad for work before, and then suddenly, there we all were on sets used for so many epic movies…".
The iconic Atlas studios in Ouarzazate, Morocco, were used to capture The Kingdom Of Heaven and Gladiators in the series and most Queen Cleopatra scenes. 
Queen Cleopatra Official Trailer
The Queen Cleopatra series is set to be released on Netflix on May 10, 2023. (External Link: IMDB)
What is the Filming Location of Queen Cleopatra?
Queen Cleopatra was Filmed in Egypt.
When was Queen Cleopatra filmed?
Queen Cleopatra's filming started in 2022.
Where can you watch Queen Cleopatra?
Queen Cleopatra is Available to Watch on Netflix.