Finestkind Filming Locations: Finestkind is a 2023 Crime, Drama, and Thriller film which is directed and penned by Brian Helgeland.
Brian revealed the reason for writing the story, he said, "Having spent a year after college as a Massachusetts fisherman, I created a script that brings a level of authenticity by being able to weave in my own personal experiences,".
"I come from a long line of commercial fishermen and have experienced their hard-working world firsthand." he continued.
The film stars Ben Foster, Toby Wallace, Jenna Ortega, and Tommy Lee Jones and is produced by Gary Foster, Russ Krasnoff, Taylor Sheridan, and David C. Glasser.
| | |
| --- | --- |
| Name | Finestkind |
| Genre | Crime, Drama, Thriller |
| Filming Location | Massachusetts, USA |
| Filming Dates | Apr 20, 2022 to Jun 7, 2022 |
| Release Date | December 15, 2023 (United States) |
Finestkind Filming Locations
Finestkind Filming Locations
Finestkind was filmed entirely in Massachusetts USA. The cast and crew went to several places in Massachusetts, including the various mind-blowing locations of the two cities, New Bedford and Boston.
In the below article, we will know about several additional places in Massachusetts where Finestkind was filmed. Now without wasting any time let's read and see the locations in Massachusetts, US where the filming unit used the facilities to film the movie.
When and where was Finestkind Filmed?
Finestkind began filming on Apr 20, 2022, and before filming began, a production member told boston.com that it "will begin filming in late April in New Bedford, Fairhaven, Brockton, Scituate, Dedham, and Stoughton."
As per the reports of southcoasttoday, the filming for the crime film wraps up filming all day on the Fairhaven Bridge of New Bedford on 7, June 2022.
Director and writer, Brian Helgeland who lives in New Bedford City, Massachusetts said "I used to ride my bicycle across the Fairhaven bridge, so to be here now is sort of spectacular,".
Massachusetts, USA
Massachusetts was the primary location for the filming of Finestkind. It is a state of the United States of America. It is known for countless colleges and universities, with Harvard University being one of the most popular and best universities.
New Bedford, Massachusetts
New Bedford was the main filming spot as the director of the film also lives here and has written the story of this film while living in this city only.
Scenes were captured from the Fairhaven bridge where the filmmaker used to ride my bicycle. It is reported that the shooting on the bridge was held on the last day of the shoot.
Due to filming, the Fairhaven Bridge was closed almost the whole day, from morning till 9 pm, and the traffic was detoured to accommodate the filming.
"It's really wild," said Marianne Farr, who was watching the filming with her family on the Fairhaven side on the bridge. Farr and her daughter previously watched filming take place at Rasputin's Tavern.
Many people who live in New Bedford came to the Bride to watch Finestkind's filming, Marianne Farr was also one of them who was watching the filming with her family he said "It's really wild,".
The duo of mother and daughter also watched the filming that took place at Rasputin's Tavern. The mother said, "We had nothing better to do for four hours, so why not stop and watch something you've never seen before?"
"I've heard 'quiet on set,' 'cut,' 'action' … you don't hear stuff like that around here ever." she continued.
Scituate, Massachusetts
The production team also traveled to Scituate, a town in Massachusetts to shoot the scenes for the film. It seems that the makers took over a home for rent on Edward Foster Road near Peggotty Beach to shoot scenes on 30, April 2022.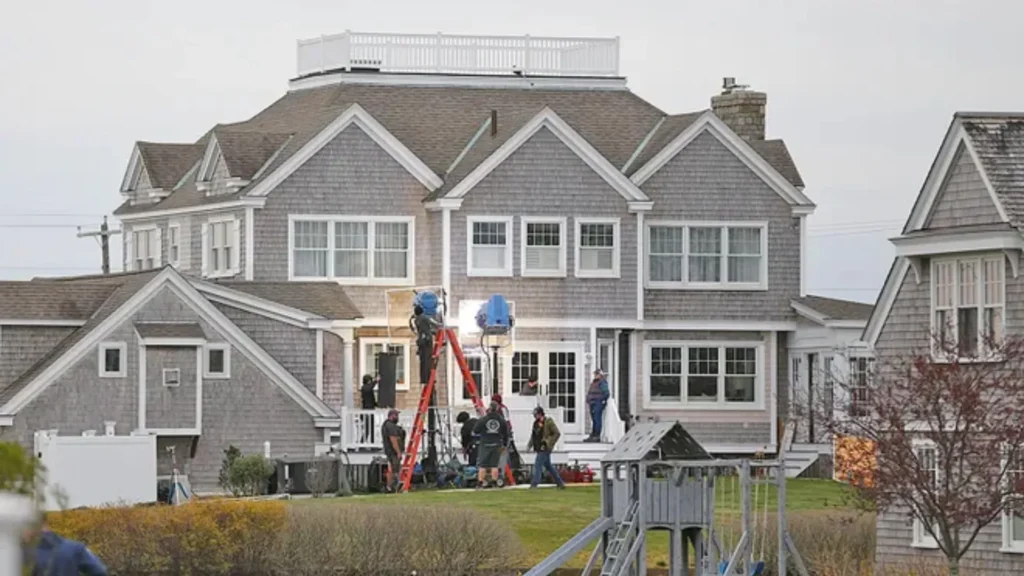 We had not seen any cast members outside the house on Saturday morning. The set up for a white catering tent and crew parking area was held on Inner Harbor Road.
Apart from the above locations, the filming took place at various popular places in Brockton, Dedham, Boston, and Stoughton.
People also ask:
What is the filming location of Finestkind?
The filming location of Finestkind is Massachusetts, USA.
Where Finestkind filmed?
Finestkind filmed at various places in Massachusetts, USA.
When does Finestkind start filming?
Finestkind starts filming on 20 April in New Bedford.
When does Finestkind end filming?
Finestkind ended filming on 7, June 2022 in New Bedford.
Finestkind Overview
The film is focused on a group of fishermen who navigate dangerous waters when their debts begin to mount.
Finestkind Official Trailer
You can watch the trailer below:
Finestkind will be released in the United States on December 15, 2023, by Paramount+. (External Link: IMDB)